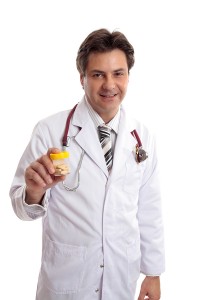 The Doctor is "IN"
I went with some friends to the local market today.  They were looking to buy some touristy things – blankets, hats, watches, sunglasses, and the schlocky stuff you give to relatives and friends you may or may not like.  What I saw made me upset:  the vendors are HUNGRY!
I'm not talking about hungry in a food way…I mean hungry for a sale. Many of them have had a tough go of it.  The media has had a bee in its bonnet for Mexico and it was showing with the Swine flu garbage, over the top reporting on the northern drug wars (which do not affect the tourist areas or the law abiding tourists with even half a brain), and any other story that they can use to sell papers.  I won't comment much on the naivety of folks that believe everything in the paper but let's just say the tourist season was a bust last year.
Back to today.  One of my friends wanted a hat. Usually the hat can be negotiated down to 100-150 Pesos ($8-$12).  The vendor started the "negotiations" at 500 Pesos!!! I told him he was nuts and is that he must not be interested in a sale.  He goes on to tell me how this hat is a "different quality" of hat and is much better.  Interestingly, at that very moment, a Vancouver couple walks by, looks at the hat, and says they got the same hats yesterday for $10 each…hello!
I told the vendor he is shooting himself in the foot by starting so high because the folks here now (mostly Canadians) are too nice to go down THAT much and will a) get a bad deal that they WILL find out about or b) walk away and not buy anything.  He pulls me off to the side and says, "What will they pay?"
"Too late", I told him, and we walked away.
This happened all over the market, every vendor was shooting high.  Guess how many sales they made.  There are many cultural reasons why this type of thing happens in Mexico but I want to let you know how this relates to real estate in Bucerias and the Vallarta area in general.
Our market is overpriced! There, I said it…it feels like a weight off of my chest. "OUR MARKET IS OVERPRICED!"  I know I'm pushing it but it's out there now.
There are many reasons why this is but the REALITY is it doesn't matter to the buyer. If they don't think they are getting a "deal", they are walking away.  If the price isn't close to the price the buyer is looking for, they won't even "play the game", so to speak.
How did we get into this mess? In no particular order – an MLS that is not a "true" MLS, agents that fail to report sales or make up sold prices, uneducated agents that have no idea how to establish a property's value, unrealistic sellers that believe their property is worth 2-3 times what it really is, cultural ideas that include raising the price if a home isn't renting or selling, uneducated buyers (mostly our fault), trunk slammers (no office, credentials, or anything) that say they "sell real estate", people foolish enough to work with a trunk slammer, and the list goes on and on.
It is time for ALL of us to take a REALITY pill. The world is changing. We can't keep expecting business to run the way it has in the past. One of the best thing to happen in the Puerto Vallarta market is the acceptance by the local AMPI (Mexico's Professional Real Estate Association) chapters of a new TRUE MLS administered by the association and not an individual. As we go on in time, the data provided will give a true representation of the market.
While we are handing out REALITY pills, let's give some to the agents. The real estate agents need to ensure that they give AMPI their full and undivided loyalty. It is only through AMPI that the real estate profession will receive the respect and authority that is missing right now. AMPI must work to grow the AMPI brand and the members must grow their professionalism (through training and education).  We need to block the trunk slammers and hacks from having any contact with the next party to receive a REALITY pill…the buyer!
How is it possible that mostly sane individuals can come on vacation, fall in love with the area (this one is actually easy for anyone), decide to buy a place, AND FORGET EVERYTHING THEY HAVE EVER LEARNED IN THEIR LIVES? Don't talk to strangers, don't believe everything you hear, never buy the first thing you see, get the facts and BUYER BEWARE. They would NEVER do this in their home towns yet here it is like a drunk fest of love with the first English speaking person they meet that says they sell real estate. Okay, that may be an exaggeration but I'm not that far off.
If your money is important to you, make sure the person you are working with is qualified to even give you advice. This goes for land, homes, condos, or anything.  That said, one of the strangest things I see happen is when a buyer wants a pre-construction property.
How can you walk into a real estate development and assume that the "salesperson" is going to have you as their fiduciary (main, first, only) responsibility? The salesperson works for the developer. Who do you think pays them the commission? Do you really think they are going to say "Hey. This contract really doesn't do much to protect you. I think we should tell my boss to change it so that it is more equitable to you." His butt would be out the door so fast he'd…well imagine something happening really fast.
When you are working with an AMPI Broker, you are working with someone that is supposed to represent you and themselves with the utmost integrity and adhere to a professional code of conduct and standards. There are processes in place so that if an AMPI member "misbehaves", there are consequences! The Broker's sole responsibility is YOU.
One more dose of REALITY for the buyer – Just because you think a property is only worth X dollars does not mean that is what the property is really worth. Mr(s). buyer may have the cash but without clear and realistic expectations, they are going to frustrate themselves and their salesperson…and maybe get themselves fired. Good REALTORS are known by their ability and will fire a buyer that the REALTOR feels is wasting their time. When they are that good, the buyer should not want to lose that real estate agent.
While I am dispensing REALITY pills, I want to give a few to the sellers. Here is the first pill…your house is not worth a million dollars! – (okay, yours may be but I am speaking philosophically…work with me a bit). There are no people with soooo much money that they will ignore the peeling paint, leaky roof, title defect, bad location, broken whatever, comparable property next door that sold for 40% less than yours, or a million other reasons just because your brother's cousin's aunt's neighbor said you could get what you're asking…it won't sell!
I have seen high dollar (over a million) homes selling for HALF PRICE. Everyday I see price decreases, fire sales, owner desperate, blah blah blah. When you have hungry uneducated real estate agents using bad data from an inadequate MLS working with an unrealistic seller in one of the worst markets ever…bad things will happen!
For whatever reason (I'd hope it is because there are folks discussing this and doing something about it), there are markets in Mexico that have taken the challenge. Hotels have lowered prices, vendors have lowered the prices on their goods, landlords have lowered rents, and home owners have set realistic selling prices and guess what…THEIR MARKET IS MOVING. The whole point of all of this is that if we don't take a dose of REALITY now, our future will be much worse than our today. Imagine even more empty office spaces, lots more inventory for sale, and a bunch more for rent signs everywhere (which has already started).
We need to get real and be honest with the buyers, the sellers, and ourselves. We must work harder, smarter, and spread the word.  Good agents never go hungry. I was very fortunate to have a mentor that taught me that there is money to be made in an up or down market. When people need to sell in a depressed market they need the best…are you the best? Are you working on becoming the best? If you answered no to either of these, get out of the way because the client deserves the best (I think they are hiring at Home Depot).
There is hope! In the midst of all of this "REALITY" (sorry, if you want rainbows and fairy dust, you'll have to go somewhere else) there is good news. Our entry level market is still robust. Homes under 250K, that represent VALUE to the Buyer, have a great shot at selling. This market segment has not really been hit THAT hard. The other great news is that in July the AARP (American Association of Retired People) voted Puerto Vallarta the #1 place in the world to retire. Our access to health care, quality of life, safety, and airport all add up to one amazing destination…but we knew this already.
This will be an exciting high season for everyone! There are great values and buyers with cash.  Get excited but GET REAL.
My name is John Forget. I sell Mexico Real Estate and I am here to help you!